Plumbers in Coconut Grove
Don't wait until your plumbing issue becomes an emergency before calling 305-251-7333 for expert Coconut Grove plumbing services from Falcon Plumbing.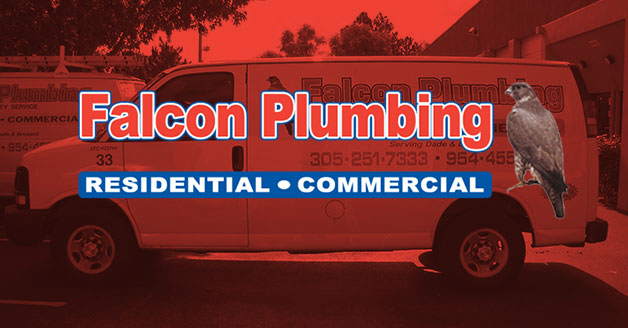 Too often, customers wait until the last possible minute to try and solve a plumbing issue. They put off the call, sometimes attempting to DIY using chemicals or plungers, but with no luck. Save yourself the hassle and headache and call the professional plumbing technicians at Falcon Plumbing for high-quality service you can count on without an expensive bill.
Your feedback matters to us, and we encourage you to share it! See what others are saying by visiting our reviews page.
Professional Plumbing Services in Coconut Grove, FL
The technicians at Falcon Plumbing are always ready to provide a wide variety of services to our customers in Coconut Grove, FL, including:
Burst Pipe Plumbing Emergency Services:
A burst pipe is considered an emergency because they can cause significant damage across multiple floors of your home or business in very little time at all.
Not only can the leaking water cause visible damage to your electronics, books, and appliances, but it can also lead to the growth of mold, mildew, and fungus inside your walls, floors and ceiling, leading to respiratory issues and can decrease the value of your home significantly.
We offer speedy, efficient plumbing services, including water heater services, and special discounts on our services. Visit our coupons page to learn more.
Plumbing Emergency Services We Offer:
Yes! Some other plumbing emergencies which the technicians at Falcon Plumbing can help you solve are:
Sewer Line Repair
A leak or clog in your sewer line can cause sewage to back up into your basement, yard, or even your neighbor's yard, causing a messy and unpleasant plumbing emergency.
Water Heater Repair
Access to hot water is crucial for staying clean and healthy, and without it you can't perform basic tasks like cleaning, cooking, bathing, and cleaning your home. If your hot water tank is broken, call us immediately for servicing.
Clogged Toilet Repair
A recurring clogged toilet is a sign that there's a clog in your sewer line, which can lead to decreasing water pressure, a burst pipe, or a sewer line emergency.
It's important to remember that regular maintenance and servicing from your trusted Falcon Plumbing specialist can go a long way towards preventing these emergencies and saving you money long-term.
Recent Jobs and Reviews in Coconut Grove, FL
For all your plumbing needs, from small repairs to help solving pressing emergencies in Coconut Grove, FL, trust the professionals at Falcon Plumbing to always have your back. Give us a call today at 305-251-7333 and let us "soar above your expectations".