Emergency Coral Gables, FL Plumbers
Are you experiencing clogged toilets, burst pipes, or other plumbing issues? Then it's time to call 305-251-7333 for the best Coral Gables, FL plumbing service. You can always count on our technicians to be available when you need us, which means your plumbing issue will get solved quickly and with expert skill.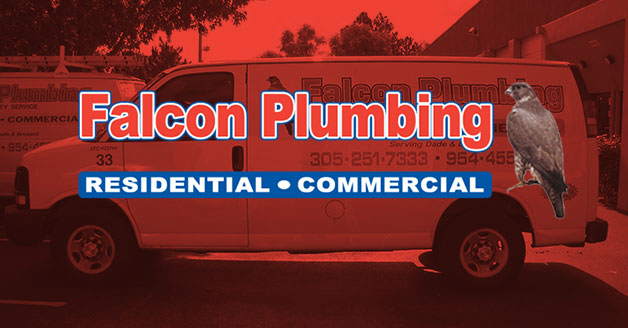 Whether it's a small clog or a burst pipe emergency, the plumbing specialists at Falcon Plumbing are ready to help you solve it. Our technicians will always provide you with an up-front price which won't change, so you don't have to worry about hidden costs and fees.
Our competitive prices and dedication to transparency are just one of the reasons why we're the go-to plumbers in the Coral Gables and Miami areas - just visit our reviews page and see what our happy customers are saying!
Plumbing Services We Offer in Coral Gables
Falcon Plumbing is proud to be able to work with a team of skilled and expert plumbing technicians who brings years of practical and certified know-how and experience to the table. It also means that we can offer a wide variety of plumbing services, meaning you don't have to shop around for different plumbing services - you can always count on us!
Here are the services we offer in Coral Gables, FL:
Save on your next service call by visiting our coupons page to see our special online discounts.
Emergency Plumbers:
If there's anything that our years of experience has taught us, it's that plumbing emergencies never happen when our customers are in a "good" place to deal with them. This is why we are always ready to help our customers in Coral Gables solve their plumbing emergencies quickly and as cost-effectively as possible.
We're always ready to be at your doorstep to help you solve a wide variety of plumbing issues, including burst pipes, slab leaks, or overflowing clogged toilets. By always carrying the right tools for the job and hiring the most qualified plumbing technicians we can find, Falcon Plumbing is always on your side in an emergency.
Some of the emergency plumbing services we can help you solve are:
Burst pipe repair
A burst pipe needs to be handled immediately in order to avoid a flooded house. If you are experiencing a burst pipe, we recommend to shut off the water supply in your home until a professional plumber arrives.
Slab leaks Repair
A slab leak is when there is a burst pipe or leak under the concrete floor of your home. If you ignore the signs this can turn into a costly plumbing emergency. To avoid any further damage, call the experts at Falcon Plumbing to be the solution to all your plumbing problems.
Sewer line Repair & Replacement
If the water in your home is not draining or your drains have a nasty smell coming out of it; you should get your sewer lines checked. Those are some signs that your sewer lines may need to be repaired or replaced.
Professional Backflow Testing
If your home or business's pipes water flow becomes reversed, your water supply no longer is safe to use or drink. If backflow testing is not done, your water may have a possibility of being contaminated.
Recent Jobs and Reviews in Coral Gables, FL
Job Locations
Leak under the sink.
Hose bibb on the side of the house dripping
Here
Here
Headed to Next call
Checking multiple things
Finished with cast iron sewer pipe replacement
When you call 305-251-7333 you can breathe a little easier knowing that you can rely on a plumbing expert from Falcon Plumbing to provide you with the best plumbing service in Coral Gables.