Doral Plumbers
Are you experiencing plumbing problems or issues with your sewer line? Get the best Doral, FL plumbing service by calling Falcon Plumbing at 305-251-7333 today. Our technicians are always available to help you diagnose and solve your plumbing issues, and we'll even do it at the most competitive prices around!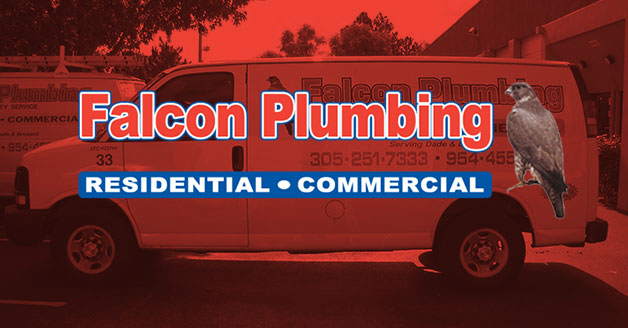 A small plumbing issue can quickly escalate into a much more serious plumbing emergency in no time at all, which is why it's important to call in a qualified plumber before that happens. At Falcon Plumbing, we want to help you maintain your plumbing system and keep it in proper working order, not just in large-scale emergencies. We know that maintaining your plumbing takes trust and time, and we pride ourselves on the relationships that we develop with our customers.
See what our customers have to say by visiting our reviews page, then pick up the phone and give us a call!
Plumbing Services in Doral, FL:
Below is a list of the services we offer the residents and businesses of Doral, FL:
Visit our coupons page to learn more about how you can save on our expert services.
Professional Water Heater Repair & Installation Services in Doral:
Have you been experiencing issues with intermittent hot water, stabs of ice cold water during warm streams, or losing hot water altogether? Don't panic! The experts at Falcon Plumbing are ready to help.
If you think your water heater may be breaking down and is in need of servicing and repairs, here are a few things to watch out for before giving us a call:
No hot water coming out of your faucets
Intermittent and inconsistent hot water
Water on the floor around your water heater
Age of the water heater (they generally need to be replaced after 10 years)
Tankless Water Heater Repair & Installation:
A tankless water heater is a modern, compact unit which doesn't store hot water like a traditional tank-based unit. Instead, they heat cold water as it flows through it, meaning that you have a never-ending stream of on-demand hot water whenever you need it.
Below are a few benefits to this system:
No risk of a burst or leaking tank
Flexible installation due to small size
Electric units do not emit greenhouse gases
It's 30% more efficient than traditional units
They require less power to operate
You can save up to 20% on your hot water costs
Up to four separate settings and remote operation available, allowing greater convenience
Recent Jobs and Reviews in Doral, FL
Reviews
Great Service!!!!
Job Locations
Drains are backing up in the kitchen area
Done at Hammeal blew out debris from fill valve
Checking toilets that are not working properly
Sorry I forgot Ingram in speak
Fueling up
Tub valve has not hot water
Repairing water leak
For all your plumbing needs in Doral, depend on the company with 30 years of experience! Give Falcon Plumbing a call at 305-251-7333 today.