Miramar, FL Plumbers
We offer dependable and trustworthy Miramar plumbing services at fair, competitive prices so you can always choose the best. Call us at 954-455-6444 today.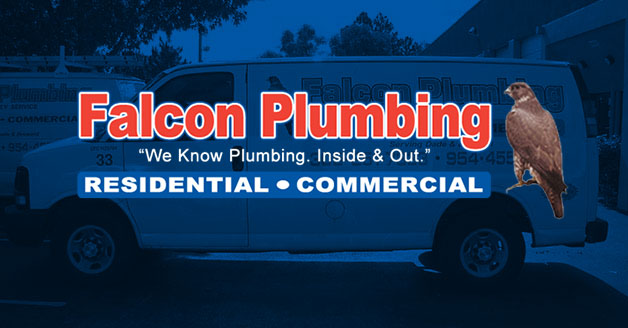 At Falcon Plumbing, our technicians are equipped, licensed, and certified to be able to help you with all of your plumbing needs. No matter what your plumbing issue may be, from kitchen renovations, to burst pipe emergencies, to water leak detection services, you can count on our plumbing technicians to provide the best service in Florida at prices you can afford.
One of the best things about working with a plumbing technician from Falcon Plumbing is that you never need to worry about hidden costs or fees. We will always provide you with a quote before we start working, and will never charge you for overtime or additional work, because we know that being able to depend on our prices means that you know you can depend on us.
See how many of your friends and neighbors trust the experts at Falcon Plumbing by visiting our reviews page and seeing their feedback for yourself.
The Best Plumbing Services in Miramar, FL:
Falcon Plumbing is proud to offer a wide selection of expert plumbing services to our friends and neighbors in Miramar, FL because we never want you to feel like you have to "shop around" to find a do-it-all plumber! We want to be your one-stop shop for all your plumbing needs; here's what we offer:
See how you can save by check out our special online discounts and coupons.
Miramar Slab Leak Repair Services
A slab leak is a plumbing emergency which occurs when a pipe bursts beneath your home's slab, which is an important piece of your home's foundation. You can tell if you're experiencing this issue if you've started noticing wet spots on your basement floor, or mold or mildew around your baseboards. If either of these sound familiar, call us immediately for assistance.
A slab leak is an emergency because as the water soaks into the ground beneath your slab it can cause the earth to move, shifting your slab and potentially causing thousands of dollars of damage to the foundation of your home. The professional plumbing technicians at Falcon Plumbing are trained to diagnose and solve slab leak emergencies quickly and effectively, so make sure to call us the moment you suspect there may be an issue.
Recent Jobs and Reviews in Miramar, FL
Job Locations
Shower head
Water heater
Ks facuet
Water heater got here at 2:20pm
When you need professional plumbing service in Miramar, FL, there's only one business which will provide you with the kind of high-quality, affordable plumbing solutions you need: Falcon Plumbing! Give us a call at today 954-455-6444 and let us "soar above your expectations"!