Plumbers in Hollywood, FL
Don't leave your plumbing issues to the last minute; call Falcon Plumbing at 305-251-7333 and get speedy Hollywood, FL plumbing service without the hefty price tag.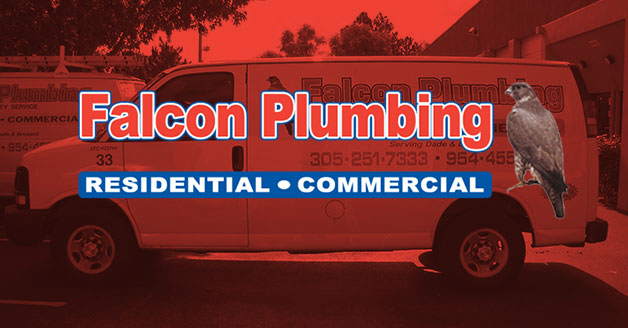 We're dedicated to helping you save, because we know that plumbing emergencies and large-scale issues can often be avoided with simple maintenance and checkups. With this in mind, we invite you to visit our coupons page to see how you can save on our services.
It's easy to forget about the plumbing that provides us with constant access to hot water when we need it the most, which makes dealing with plumbing problems and emergencies especially stressful and upsetting. At Falcon Plumbing, our goal is to help you navigate this unpleasant experience by providing speedy, efficient, and affordable plumbing services to the residents and businesses in Hollywood, FL.
Make sure to see what your friends and neighbors are saying by visiting our reviews page.
Plumbing Services We Offer in Hollywood, FL:
No matter what plumbing issue you may be facing, the experts at Falcon Plumbing are always ready to help you solve them! From slab leaks to sewer line issues and repiping projects, our technicians are available to assist you.
Drain Cleaning Services:
Our technicians will be able to determine how bad your clog is, but if you're unsure about whether or not you should give us a call, here are a few things to look out for:
Sinks, bathtubs, showers and toilets are taking longer than usual to drain
Water is backing up into tubs, sinks, toilets, and floor drains
Toilets aren't flushing properly or are taking multiple flushes to work
You've noticed an unpleasant smell coming from your drains
Make sure to visit our coupons page to see how you can save before you call.
Clogged Drain & Pipe Repair Services:
Though professional service is necessary when large clogs form and begin to cause water to back up and drain more slowly, there are a variety of things that you can do day-to-day to try and keep your pipes and drains from developing clogs that require a professional to unclog for you:
Don't try to flush large objects, like leftover food or sanitary products
Pay attention to the things you wash down the drain. Avoid washing food, grease, oil, hair, and other debris down your drains whenever possible
Place small mesh covers to catch hair and food particles before they go down
Recent Jobs and Reviews in Hollywood, FL
Job Locations
Toilet not flushing
Checking tankless water heater
Dermcare
Tankless water heater not heating
Water heater code error
Toilet running leaking
Get dependable plumbing service that you can count on by calling the Hollywood plumbing experts at Falcon Plumbing. We're always available at 305-251-7333 to assist you.